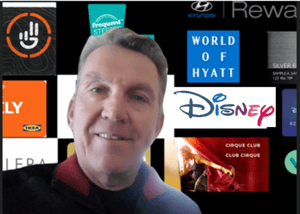 Phil Hussey
Founder and Principal Consultant
LoyaltyLevers is the culmination of Phil's 25+ years in data driven loyalty marketing, springing from experiences managing loyalty programs and as CEO of a Loyalty Agency serving some of the best brands in the world. Through all of it, he discovered loyalty insights revolving around three core dimensions – dubbed LoyaltyLevers. Time after time, loyalty program success came back to driving behavior, building the loyalty sentiment, and activating customer engagement.
Phil's career started managing loyalty programs at Marriott, leading to the launch of Marriott Rewards. From there he moved to Disney, pioneering CRM and Loyalty Marketing efforts designed to accelerate repeat resort stays and day visit programs for the local markets. Phil's agency experience started with Rapp, as Senior VP he served as a trusted advisor to brands including Hyatt, Continental Airlines, DIRECTV, JCPenney, and Office Depot. In 2008 he became the co-founder and Managing Partner of 89 Degrees, a data driven loyalty marketing agency serving clients such as IKEA, Jeep, Sanofi, Stride Rite, Hyundai, Cirque du Soleil, Stop & Shop, Westpac Bank and Zaxby's to name a few.
Following the successful acquisition of 89 Degrees by Iris Worldwide, he launched LoyaltyLevers as a boutique consultancy providing Loyalty Consulting to both brands and loyalty marketing companies who want to go beyond cookie cutter rewards schemes to build true loyalty and maximize ROI. Core consulting and design services support loyalty program transformation -- creating compelling & integrated propositions that drive acquisition, engagement, brand affinity and incremental share of wallet. Implementation related services include technology evaluation, change management, analysis and measurement and other support necessary for true success.
Phil holds an MBA, graduating with Beta Gamma honors from George Washington University. He is an avid skier and can often be found hiking to find hidden stashes of powder with his three grown children. Phil and his wife Debra split their time between Boston and Naples, FL.
Let's Build Something
Together.