Loyalty Program Benefits: Behavior Drivers
Done right, incentives drive data capture and spur incremental behavior. The ability to structure motivating earning opportunities and offer high value rewards is the key to success for this Lever. By analyzing and segmenting based on customer patterns, and then applying the vast reservoir of proven loyalty psychology, successful programs pull customers to the next level of spend and lock them in.
Developing a winning array of Behavior Drivers can seem overwhelming. That's why I favor a roadmap approach focused on achievable near-term success while plotting the larger course to the future desired state. As an option, a detailed analysis of the impact of your current program will provide guidance and insights about key patterns and the priority behavioral inflection points.
Targeted Bonuses
Limited Time Incentives
Exclusive Products
Referral Rewards
Extra Savings

Starbucks has moved from a one size fits all program a few years ago to a completely personalized program with an impressive grasp of how to best use Behavior Drivers. You know you've reached success when the CEO has an acronym for your program ("SR") and frequently references it on earnings calls. As of Q2 2021, the 22.9M SR members accounted for 52% of revenue. This is no doubt about the ability to broaden the member's purchases with timely incentives. As a result, the Starbucks Rewards program also ranked at # 3 on the list of top strategic initiatives listed in the most recent annual report. That's ahead of #5, which was increasing the geographic footprint.
Here are some highlights of how Starbucks maximizes LoyaltyLevers.
Offer Personalization
Using Machine Learning, Starbucks personalizes over 20 million offers weekly, delivering 3X the return of non-personalized offers. The algorithms assemble dynamic actions and dynamic rewards nudging members towards the most relevant categories, sub-categories or products. All while varying dayparts and locations with different levels and type of rewards.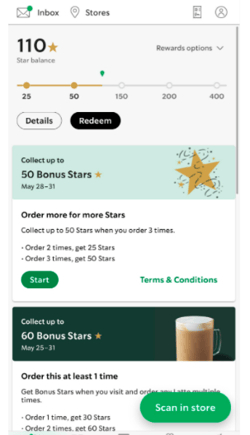 Channel Integration
The Starbucks mobile app provides a great example of how the experience and the rewards program need to work together. Being able to order a custom drink in advance, including extras for only 25 stars, and then spend less than 30 seconds in the store, is a game changer. It's no surprise that average ticket increased by 21% during the Pandemic.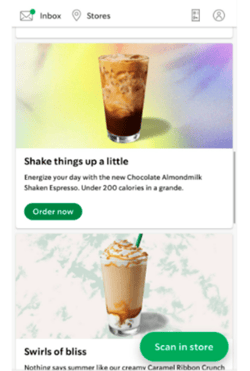 Let's Build Something
Together.