2022 has been another year of massive change for Loyalty Programs. Changes in data privacy restrictions will place further focus on permission-based loyalty memberships, while consumer purchase patterns and loyalty attitudes will settle into the "new normal". Loyalty program strategies must stay in front of these trends, and executives managing these programs need to hit the ground running.
Our Discovery Package provides a quick, high impact way to get started. As part of our high-touch approach, we include the review of existing research and data analysis as an initial step, providing a digest of insights and implications with no commitment. This provides a no-risk opportunity to experience the LoyaltyLevers approach, featuring hands on involvement from industry-leading Loyalty Consultants.

To get started, just use the Inquiry form below.
Loyalty Consulting
Loyalty Discovery Package
Review of all existing research and data analysis
Profiles of 5 competitors and 5 benchmark companies
Proprietary LoyaltyLevers survey among your members to gauge attitudes and category behaviors (400 completed surveys)
Up to 10 stakeholder interviews
In-Person Executive Report: Insights, implications, and opportunities across the 12 LoyaltyLever dimensions.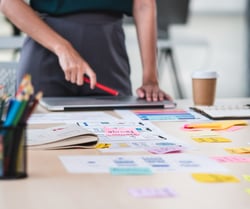 Let's Build Something
Together.