Personalized Loyalty Programs: 7Rewards

Phil Hussey
Personalized Loyalty Programs succeed based on their ability to tailor offers, point earning opportunities and/or rewards based the member's behaviors and interests. The personalization can take place at a segment level, grouping similar members together and customizing accordingly, or at the individual level based on Artificial Intelligence and Machine Learning. While it is a heavier lift from a technology standpoint, the benefits are significant vs one size fits all schemes because the incentives can be structured much more surgically, and test/learn can be applied to optimize. 7-Eleven's 7Rewards program has over 55 million US members, and has rocketed to the forefront of the loyalty arena with their innovative program. A big part of that is based on personalization of the experience across all channels.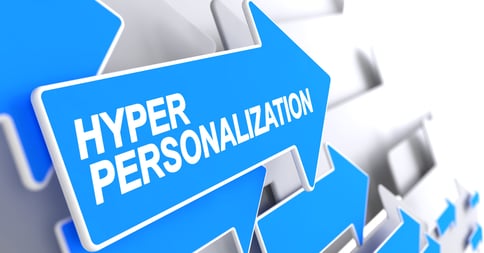 Overview

7‑Eleven aims to be a one-stop shop for consumers – a place people can always rely on to deliver what they want, when, where and how they want it. 7‑Eleven operates, franchises and/or licenses more than 13,000 stores in the U.S. and Canada. Launched in 2015, 7Rewards has rapidly evolved from a punch-card system to a tech based platform providing members access to a suite of features within the 7‑Eleven app, including Mobile Checkout, 7‑Eleven Wallet, Fuel Loyalty and 7NOW – their delivery service. Overall, 7-Eleven prides themselves on being "customer obsessed", and are well along on their journey to personalize each aspect of the experience.
Let's unpack each of these elements to better understand the depth and breadth of this impressive program.
Personalized Loyalty Programs: Behavior Drivers.
7Rewards members earn points on nearly every dollar you spent, and can redeem points for free snacks and other goodies. The base earnings are 10 points per dollar, with rewards starting at $1 for every 1,000 points. However members can quickly capitalize on numerous opportunities to boost this 1% payback significantly – and this is where the personalization kicks in.
Bonus Points:



The app features BOGO offers, select pairings and weekly deals that boost point earnings for every store visit. For example, buy two cokes and two roller grill items (+300 pts), two Lunchables (+ 200 pts) or two Cape Cod chips (+800 pts).


Point Streaks:
7-Eleven builds on their classic punch-card threshold scheme (7'th cup free), and offers a broad range of "streaks" which rewards purchases with bonuses at various frequency thresholds. For example, the Pepsi streak bonuses after purchasing 20oz Pepsi's at intervals of 7, 5, 3 and 5. Members can earn up to 5,000 bonus points with 20 purchases, which easily triples the earnings.

According to interviews wit 7-Eleven, a main focus is personalizing the streaks for each member based on their purchase patterns and interests, with selections made via artificial intelligence and machine learning. This results in a highly relevant and engaging loyalty program. As a side note, it is likely that a good portion of these offers are funded by the manufacturer, which could provide an important source of funding.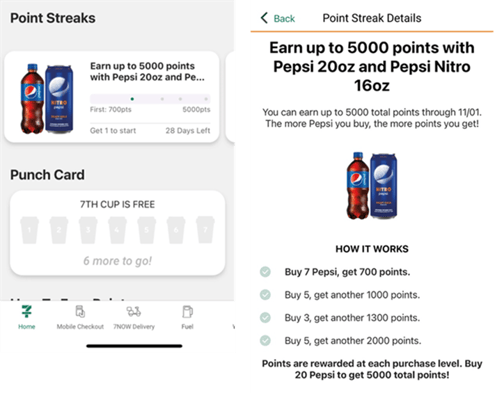 Point Streaks provide targeted offers designed to drive behavior
Wallet and Mobile Check-Out
Mobile check-out provides a contactless option for in store shopping. The member scans each item, pays and leaves the store with no delay. Members receive double points for using this option.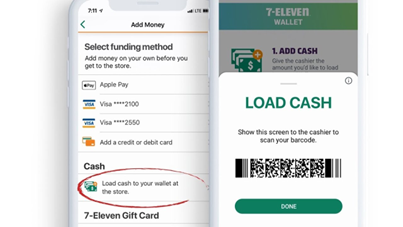 Mobile Check-Out and Wallet speed transactions, and even allow cash customers to participate
Given that more than 50% of 7-Eleven's transactions are settled with cash, they needed to overcome this potentially significant obstacle. In an ingenious innovation, they've introduced a Wallet with a feature that enables members to load cash into their wallet in-store. Members with credit cards can also authorize automatic reload similar to Starbucks – either way they receive a 500% bonus on all purchases made through the wallet.. Overall scan rates are trending towards 65%, which is quite a feat given the cash nature of the audience. The app receives a super high rating of 4.8/5 in the app store.
Fuel represents about 20% of 7-Eleven's gross profit. 7Rewards applies to fuel, although unfortunately it is run as a separate promotion and does not contribute to point earnings – likely due to the slim margin on gasoline. Members save 11¢/gal on their first seven trips, after that the discount decreases to 3%.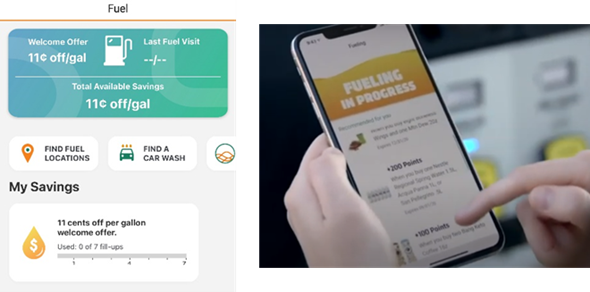 'Fuel Loyalty offers members savings on fuel and special offers in the store
Members can check the 'Find a store' section in the 7-Eleven app and filter for nearby fuel loyalty locations. Once at the pump, the app guides the experience, selecting the pump and delivers special offers to make a complementary purchase inside once the fueling is in progress.
Home Delivery through 7Now
7-Eleven now offers delivery of 3,000 food, convenience, and grocery item 24 x 7, in 30 minutes or less. Products include groceries, over-the-counter medicines, household goods, a range of food and beverage options including pizza and Slurpee drinks, beer and wine and more. The 7NOW delivery business doubled in 2021 and continues to grow.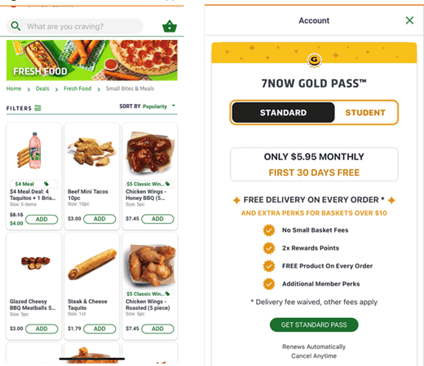 7Now offers 24/7 delivery within 30 minutes, and a subscription loyalty plan
Of course, members earn points on all 7Now purchases. 7-Eleven offers a Gold Pass for $5.95 a month, which eliminates all delivery fees, adds 2x points and members receive a special gift with purchases of $10 or more (for example, a small Slurpee). Given that 50% of the US population lives within a couple miles of a 7-Eleven, they have a strategic spot in the local markets as the closest retailer.
The depth and breadth of the incentives across a comprehensive set of channels has 7Rewards incredibly well positioned to deploy optimal Behavior Drivers at a granular level. And according to the retailer, they still have a ways to go on their journey to hyper-personalize the program. Read more about Behavior Drivers
Sentiment Builders
While 7Rewards does a lot to drive behavior and transactions, there is a lot of heart within this program as well. Let's start with the Slurpee and beloved brain freeze... Being a part of everyday life, fans love 7-Eleven. Here are a few of the things they do to build loyalty sentiment even more:
Lifestyle Promotional Events: These add a lot of character to the program, for example a joint effort with the Rocket League video game giving consumers a cool new way to drive in the game and on the road with six exclusive in-game Rocket League customization items and a fan designed custom car giveaway. Another example is 7-Eleven Space Invaders -- a content series that celebrates artists in local communities through engaging murals. As part of the Golden Bagel promotion, if members see this special bagel in the case, they can get it for free. Or as part of their fall sports promotion, they can see 7 football and soccer games in 11 days.
Brainfreeze Collective: The Brainfreeze Collective is a place where members can discuss ideas, opinions, and experiences about 7-Eleven and 7-Eleven products. Conversations vary seasonally, recent discussions were about how 7-Eleven might support tailgaiting in different ways, and what kinds of products might be good additions to delivery. 7Rewards gives 10 million points per month to the Brainfreeze collective for their participation.

Innovations: 7Rewards is constantly pushing the forefront of technology in order to serve their customers better. According to 7-Eleven, they are piloting a feature to lock in a fuel price for up to 4 days, and if the prices turn lower the member will automatically receive. This type of benefit goes a long way towards increasing good will with the base.
Overall, 7-Eleven strives to be customer obsessed in everything they do, and they see positive movement in net promoter score as the ultimate measure of their success. That being said, 7Rewards could do more to build true loyalty sentiment. For example, all of the plumbing is in place to deliver surprise and delight offers. This could fit nicely with the various streaks incorporated into the program, and sprinkling in random giveaways of small and large extra rewards and experiences along the way could really move the needle. This could be a great opportunity to utilize the 7Collection of exclusive merchandise, further deepening the brand love!


Learn more about Sentiment Builders.
Personalized Loyalty Program: Engagement Activators
With all of the touchpoints, and the frequency of visits for C-Store customers (more than 60 times per year), there is no lack of engagement with 7-Eleven. The app is filled with numerous and changing offers, messaging is customized, and now with local delivery the brand is becoming increasingly central to the consumer's lifestyle.
One highlight of the engagement activation power of this program is how they use gamification to pull members in to the experience. Streaks are visually displayed within the app, showing members where they are and how far it is to the next bonus. Rewards options are just a click away. It's an enticing experience that is likely to keep members coming back to earn points and play the game. More about Engagement Activators and how they can elevate your results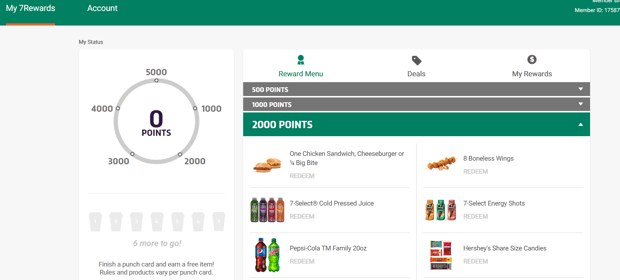 7Rewards leverages gamification to increase member engagement
Personalized Loyalty Program: Ease of Use
The 7Rewards program has become the key to digital transformation for the 7-Eleven brand, and it's a hefty program. Once set up correctly, it makes shopping a breeze. They do a good job of onboarding members with video content that guides them through the process and makes it feel easier. Their goal is 100% capture of their customers who pay with credit cards, and they've certainly built in enough utility to get close to that.
The main challenge will be capturing the less frequent customers, those who visit perhaps once a month or even less. Convincing them to download the app and embrace the 7-Eleven lifestyle could be more of a challenge when they are mainly visiting the store for a fuel fill-up or incidental purchase on the way home. Capturing those customers with digital wallet integrations or other simpler solutions may be an area for investigation.
LoyaltyLevers Take
7Rewards has had an amazing run of innovation over the last 7 years, playing a key role in the digital transformation for the 7-Eleven brand. Highlights include their straight-forward approach to attracting cash paying customers which breaks new ground and could well serve as the roadmap for others. Their ability to personalize, and distill down a large number of potential offers and incentives to only those that are most relevant, has been an important part of their success, and will continue to be so even more in the future.
Overall we give them a score of 8.25, with a perfect 10 in Behavior Drivers.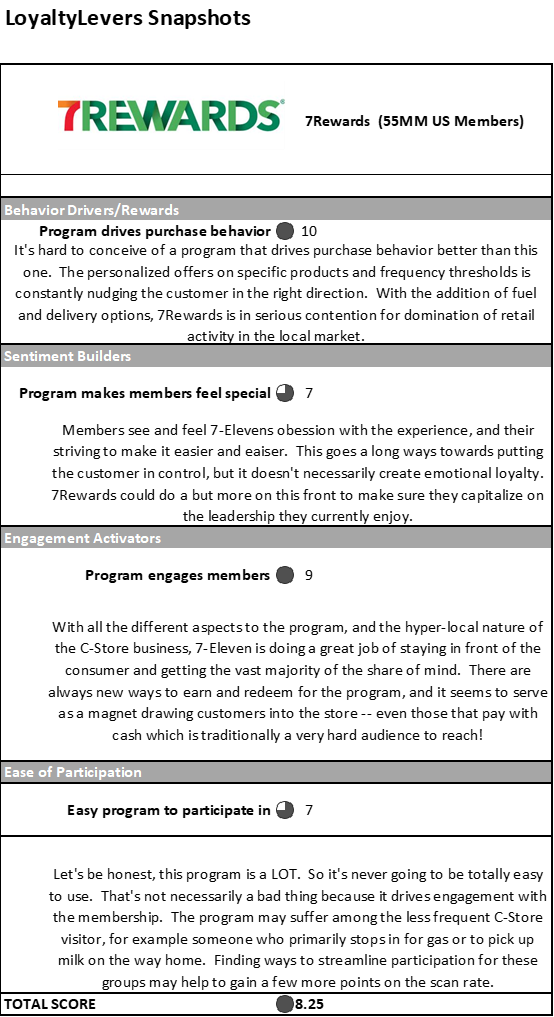 Contact Us for a complimentary consultation on how you can create a more personalized loyalty program.
Related Posts
Is a Small Business Loyalty Program Worth it?
Small business owners are extremely busy, so adding a loyalty...

Phil Hussey
Jul 22, 2022 1:13:43 PM