CRM Loyalty Programs: IKEA Family

Phil Hussey
CRM Loyalty Programs take a softer approach to developing customer loyalty, avoiding points and other complicated schemes in favor of a simple value proposition to encourage the customer to identify themselves and engage with the brand. Strategies for this type of program can range from a simple email club to a highly personalized experience designed to maximize the relationship. IKEA Family is a massive global loyalty program adopting this approach, and it has helped this retailer to get to know their customers better while battling brands like Wayfair in a highly competitive marketplace.
Overview

According to IKEA, IKEA Family has been available in the US since 2011, when it was introduced to help them identify more of their customer base. Since then, it has grown to 150MM members who belong to what IKEA claims is the world's largest loyalty program. As an Everyday Low Price (EDLP) retailer with a large base of ardent fans, IKEA has been able to carefully introduce new benefits that fit with the brand, develop customer loyalty and support key business objectives.
CRM Loyalty Programs: Behavior Drivers
Until recently, IKEA Family's only "hard" benefits were offers on a few merchandise items each month. However, in September 2022 IKEA added a 5% discount for in-store purchases, which is a significant move for this EDLP retailer.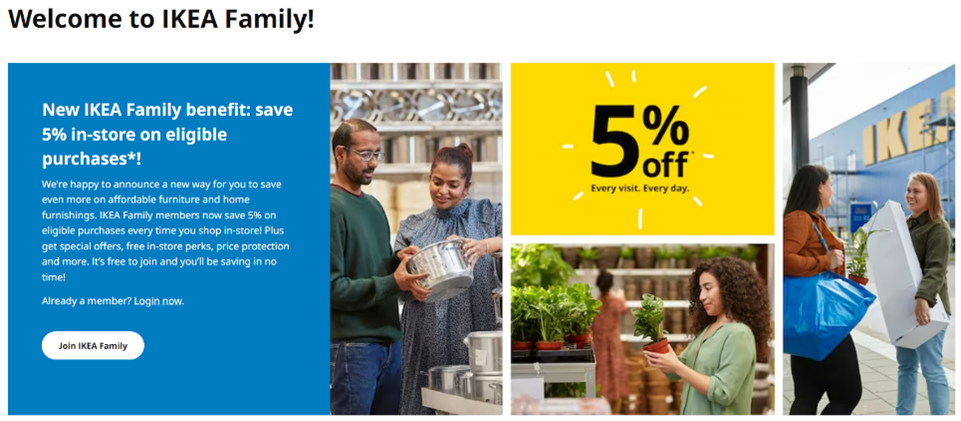 IKEA Family introduced a 5% in store discount for members in September 2022
As part of the backdrop, IKEA's 2022 prices have increased by 9% on average due to supply chain cost increases. So certainly the discount is an important benefit for members, and by focusing it in-store purchases, IKEA makes a strategic move to incentivize customers to purchase at the retail locations. The emphasis on in-store purchases may be for a few reasons:
Higher conversion rates and average ticket amounts typical for in-store purchases.

Differentiator vs online competitors like Wayfair -- although competitors like Wayfair are starting to introduce bricks and mortar locations, IKEA has a significant advantage with their store locations which allow customers to touch and feel products before they buy.
In addition, IKEA Family members now receive a small discount (about $10) on various delivery and set-up options for members who do order online. This boosts the services revenue stream for IKEA, another unique business offering. See more on how to design Behavior Drivers for your loyalty program
CRM Loyalty Programs: Sentiment Builders
IKEA Family has traditionally offered benefits for members that make the experience a bit better, like free coffee/tea in the store, 90 day price protection, extra time for the kids in the Småland supervised play area and a surprise birthday offer. Purchase history is saved as a service for members, which is a real help if you've ever had to order replacement parts. Newer benefit introductions include the Buy Back & Resell service, which allows customers to receive a credit for their used IKEA furniture towards new items. This benefit fits nicely with IKEA's overall focus on sustainability and provides an additional incentive to stay loyal for that next purchase.


The Buy Back benefit taps into the member's passion for sustainability
All these benefits combine to build loyalty sentiment while avoiding membership status tiers or levels that would compromise the IKEA brand promises of "Simplicity" and "Creating a better life for the many people" (vs only a few). Learn more about Sentiment Builders
CRM Loyalty Programs: Engagement Activators
IKEA engages members with a steady stream of timely and personalized omnichannel messaging. IKEA serves customers through many different lifestages, from college to newlyweds, first home, baby, family and home moves along the way. Armed with customer data, communications seem to follow along with the lifestages. There are specialty web experiences for new movers and gift registries to name a few. To maximize engagement in-store, members can scan to win IKEA gift cards during store visits. This increases capture rates, even on trips where no purchase is made. In addition, IKEA offers interest-based workshops to educate and engage members.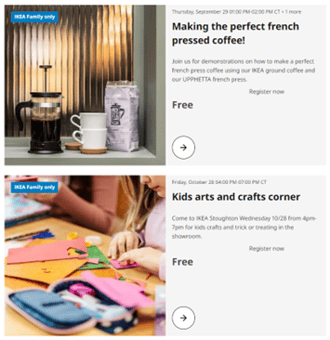 IKEA offers interest based workshops in-store to keep members engaged
These elements work together, and showcase how IKEA is taking advantage of the data captured via their CRM Loyalty Program, and using it to better engage their customers. Each engagement can provide a tip as to what kind of home related Journey the customer is on, and puts IKEA in a position to assist. More on how Engagement Activators can increase your program's impact
CRM Loyalty Programs: Ease of Use
IKEA Family is easy to use because the program is truly knitted into the brand experience. In fact, because of the data captured, the program helps to enhance the experience. Not all loyalty programs need to have points to be effective, and this CRM Loyalty program proves the point. It's all about a value exchange, and over 150MM members globally see the benefit in joining. Now, with the new 5% in-store discount, IKEA will likely attract even more members to join and encourage existing members to show their cards on each and every visit.
LoyaltyLevers Take
IKEA provides a strong example of melding CRM and loyalty program strategies. For years, the brand has used their famous catalog as a big part of the marketing mix, but with that being largely discontinued, they needed to find other ways to stay in front of the consumer, educate them about the entire product range and build the overall brand affinity in a competitive marketplace. We rate the program a very strong 8.5, with highlights being the incredible ease of use and ways that they continue to make members feel special at scale.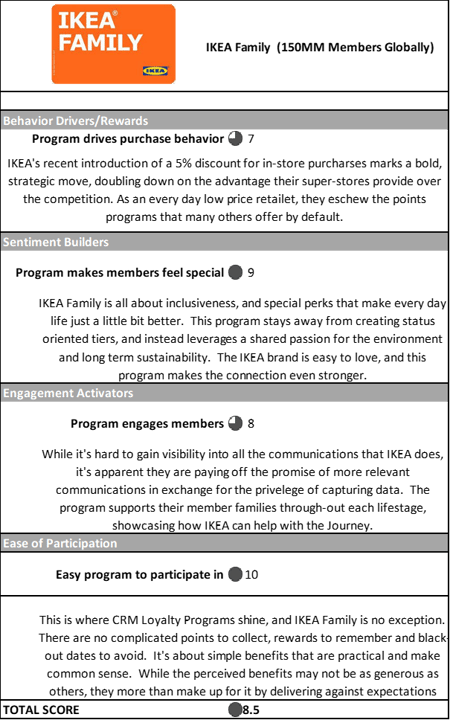 IKEA Family is evolving to meet the marketplace, and it wouldn't be surprising to see additional changes and enhancements in the future. Contact us for a complimentary consultation on how you can best evolve and revamp your loyalty program
Related Posts
The driver behind most loyalty program reviews is a general sense that the current loyalty benefits are not...

Phil Hussey
Sep 14, 2021 9:51:24 AM